Participants in MoA Gingerbread City 2018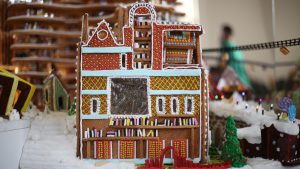 In celebration of 35 years of BUJ we decided to take part in this year's Gingerbread City organised by the Museum of Architecture. The annual event encourages gingerbread-based creativity and puns galore with this year's event carrying the theme: 'Imagining the Future City'.
Our Plot:
Located in the heart of the cultural North Bank, alongside Foster's pavilion & Zaha Hadid Studio's Opera House, is the 'Me Myshelf & Icing' Univeristy Library. Standing at an impressive 9-storeys and comprising 5 reading dwellings, over 100 liquorice books and 7kgs of gingerbread, our library was the product of a fortnight of hard work lead by Creative Director Joseph and Associate, & sole Baker, Catriona.
Our Plot Statement:
In our future cities we could easily miss the opportunity of having a library at all. In the Future City students can access any resource at any time in any place. But this offers the future University Library a glorious opportunity. With the archaic objective needs removed the future library can look solely to the student's subjective needs. It can become a place for indulging in relaxation & nostalgia, provide student's with domestic cocoons where the touch & smells of books can be enjoyed in comfort, and frame far-reaching views of Sugar HighLine! & Yule Log Landscape.
Held at the V&A South Kensington and comprising over 60 gingerbread buildings, the exhibition will run until 6th January and is free for V&A members and children under 12.